Fri August 12, 2022 ▪ 9:00 a.m. ▪

4
min read – by
Mikaia ANDRIAMAHAZOARIMANANA

What does the Chinese Communist Party really expect from a Web 3.0 without cryptocurrencies? In any case, this is what his old and recent acts of repression against these new assets suggest. This week, it was reported that the local government shut down 13,000 accounts promoting crypto on social media.
China's crackdown on bitcoin (BTC) continues
It is clear that China's ruling party will not change its position any time soon. Because the latest news, he ordered the Cyberspace Administration of China (CAC) to clean up social networks. By "sanitation", we are talking about an eradication of everything related to the promotion of bitcoin and other cryptocurrencies.
It is in order to satisfy the rulers that the CAC has closed accounts on the Weibo and Baidu social networks. The fishing seems good, if we take into account the statistics published by bitcoin.com on this subject :
12,000 illegal user accounts;
989 public accounts;
51,000 messages encouraging investments in cryptocurrencies;
105 website platforms relating to the marketing of similar assets.
And to top it all off, the Chinese regulator has announced that it has " shut down 105 website platforms such as 'Bi Toutiao', which specifically advocates trading virtual currencies and publishes tutorials explaining cross-border currency speculation and virtual currency mining. »
Something to delight Xi Jingping and his entire anti-bitcoin clique.
CCP and visceral hatred of bitcoin (BTC)
You are aware that China is not at its first blow in its anti-crypto policy. As a reminder, the government has carried out a vast crackdown on trade and mining of bitcoin in September 2021. However, the misfortune of some has always made the happiness of others. The Chinese iron fist has therefore benefited new Eldorados of the mining like Texas.
Against the expectations of the Chinese ruling party, the local bitcoin mining machine seems to be still running. Last June, Bitrwar reported the existence of 94 nodes still active in the Middle Kingdom.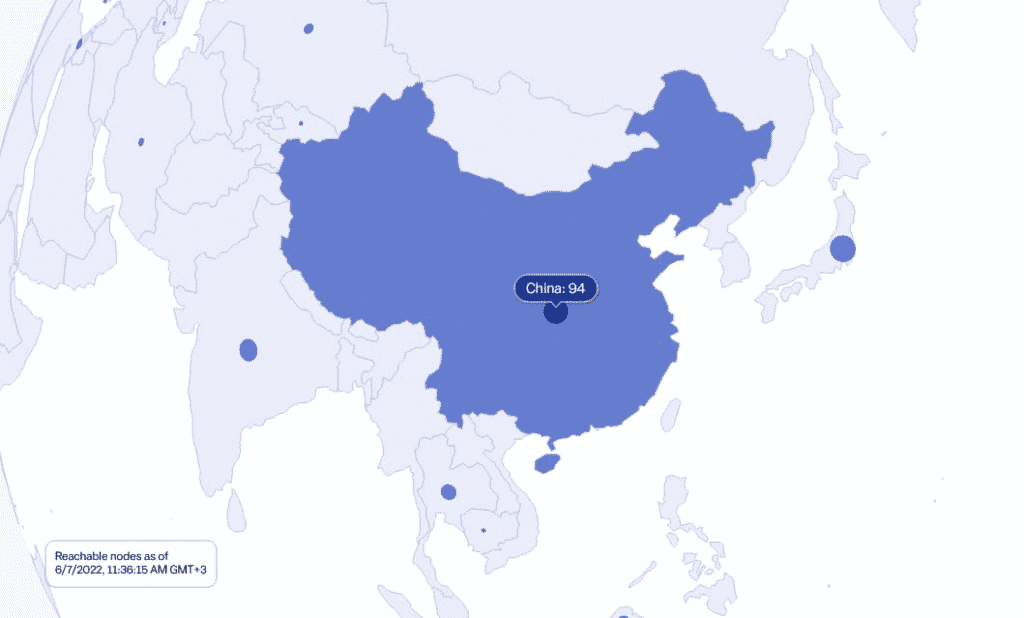 If you understood the psychology of the CCP correctly, the CAC would be hunting down these miners day and night. Have we not been informed of the dismantling of an illegal farm of mining last March ? A batch of equipment worth 5 million yuan was seized on the occasion.
The only NFTs, the metaverse and the CBDC (converted to e-CNY) are of interest to China. If local authorities are not finding a way out to regulate virtual realities, they are sadly witnessing the increase in public interest in NFTs.
Another blow for local enthusiasts to swallow is WeChat's recent censorship of accounts having any connection to NFTs and crypto assets.
But, equally, no Chinese worth their salt would like the brutal way the government was using against the enraged people for lack of access to their bank account. Tanks to silence peaceful demonstrators, isn't that an exaggerated approach?
Towards a "bis" bipolarity of the world?
To say that the passage of Pelosi in the neighboring island (Taiwan) did not help matters for bitcoiners. It seems that this stimulus has only heightened the CCP's rage against anything that undermines its authority. But by continuing on this path, will China be able to achieve its objectives of dethroning the dollar? Or is it not yet seduced by a multipolar world? Much has been said about it on the BRICS side against the background of the Russian-Ukrainian war. And bitcoin contributes to the foundation of this new paradigm.
Receive a summary of news in the world of cryptocurrencies by subscribing to our new daily and weekly newsletter service so you don't miss any of the essential Cointribune!
Mikaia ANDRIAMAHAZOARIMANANA
The blockchain and crypto revolution is underway! And the day when the impacts will be felt on the most vulnerable economy of this World, against all hope, I will say that I had something to do with it