Investing.com – The cryptocurrency may have managed to temporarily recover from its recent slump and break above the $20,000 mark, but the cryptocurrency is clearly hesitant to hold above this key threshold.
Traders will not forget that Fed Chairman Jerome Powell said last Friday that the central bank would continue its fight against inflation, even if it led to the economy underperforming.
Bitfury CEO Brian Brooks is confident that the Fed's strategy will weigh on the market for some time to come:
"The more the market expects restrictive policy from the Fed, the more people expect the Fed to take an aggressive stance, which would tend to hurt bitcoin."
In the context of bitcoin, we also like to talk about inflation protection, which is completely justified, as Steven Lubka of Swan Bitcoin explains.
BTC reacts positively to an inflationary environment when it relies on central banks printing new money, as was the case last year. But in the meantime, central banks are withdrawing liquidity from the market, while inflation is based on the breakdown of supply chains and the shortage of raw materials.
The Fed's preferred measure of inflation, the price index, cooled in July on an annual basis, to 6.3 percent from 6.8 percent the previous month. It would, however, be a serious mistake to assume that inflation is under control, as IMF Chief Economist Gita Gopinath explained:
"I would be cautious in interpreting a single data point for the United States.

This time last year, inflation data was good and everyone thought inflation was coming down. But in October, inflation started to rise again. So I think you have to be very careful in estimating inflation.

We are in a phase where inflation is likely to remain high for some time, at least for another year or two."
If the IMF's assessment is correct, no change in the Fed's monetary policy will therefore occur. We should therefore not expect a notable rally in cryptocurrencies at the moment.
Important Technical Thresholds on Bitcoin
BTC/USD loses -1.65% at a price of 19.897 dollars, while the weekly loss amounts to -8.51%.
The cryptocurrency recently attempted a bounce above the psychologically important $20,000 mark, but encountered resistance at the 61.8% Fibo retracement at $20,523.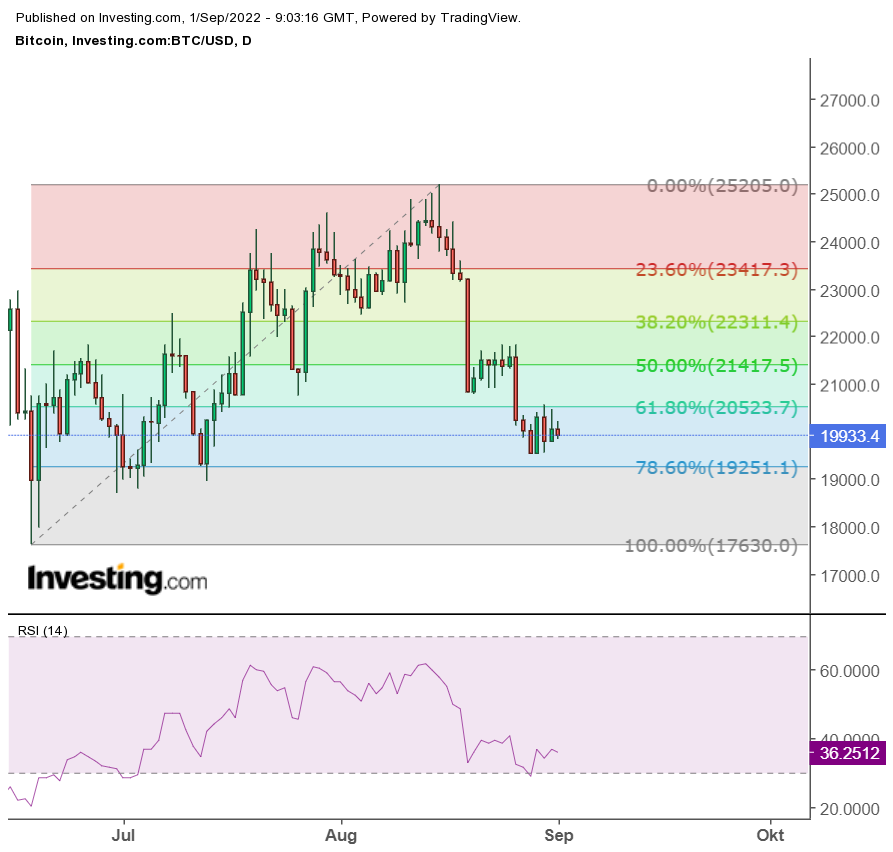 The door therefore remains open for a test of the 78.6% Fibo retracement at $19,251. If the price does not resist the downside pressure and a daily closing price is below, expect losses towards the cycle low of $17,630.
Only if the 61.8% Fibo retracement is breached sustainably will a rally towards the 50% Fibo retracement of $21,417 be possible.
By Marco Oehrl