That's a fact ! The cryptocurrency market is going through a difficult period against a backdrop of a downward trend that is set to last. And this situation applies to all sectors in relation to this brand new digital economy. But this at definitely different and more or less painful levels, as in the case of NFT tokens. Because the latter fall from (very) high following the spectacular surge recorded during the past year.
Everything was going well for the NFT sector, even at the start of 2022. A trend almost against the tide since at this time the total amount spent by collectors almost already exceeded that of the whole year. former. With a historical record of monthly volumes recorded on its various platforms which stood at more than 5.6 billion dollars in January. But that was before…
Because since this period, the crisis which passed by there indeed caught up with this speculative bubble. With a very clear slowdown – on the verge of complete cessation – recorded since last June. That is, for the first time since June 2021, a total monthly volume of less than $1 billion ($884.85 million). And a trend that seems to continue, since at the end of August this amount is struggling to exceed 400 million dollars (369.7).
But don't worry, because the Opensea platform continues to impose a dominance of more than 80% on this entire ecosystem. Even if for that it had to offload 20% of its employees just a little over a month ago. With, at the same time, floor prices collapsing for the main collections such as Bored Ape Yacht Club (BAYC) or CryptoPunks.
NFT – A strong dominance of gaming
However, another dynamic emerges from the analysis of this sector of NFT tokens. And it gives pride of place to everything related to the new trend of crypto-gaming. Indeed, sales recorded in the field far exceed those of collectible NFTs, yet at the center of all attention because of their improbable prices. At point represent more than 75% of these operations over the last few weeks… and even for months.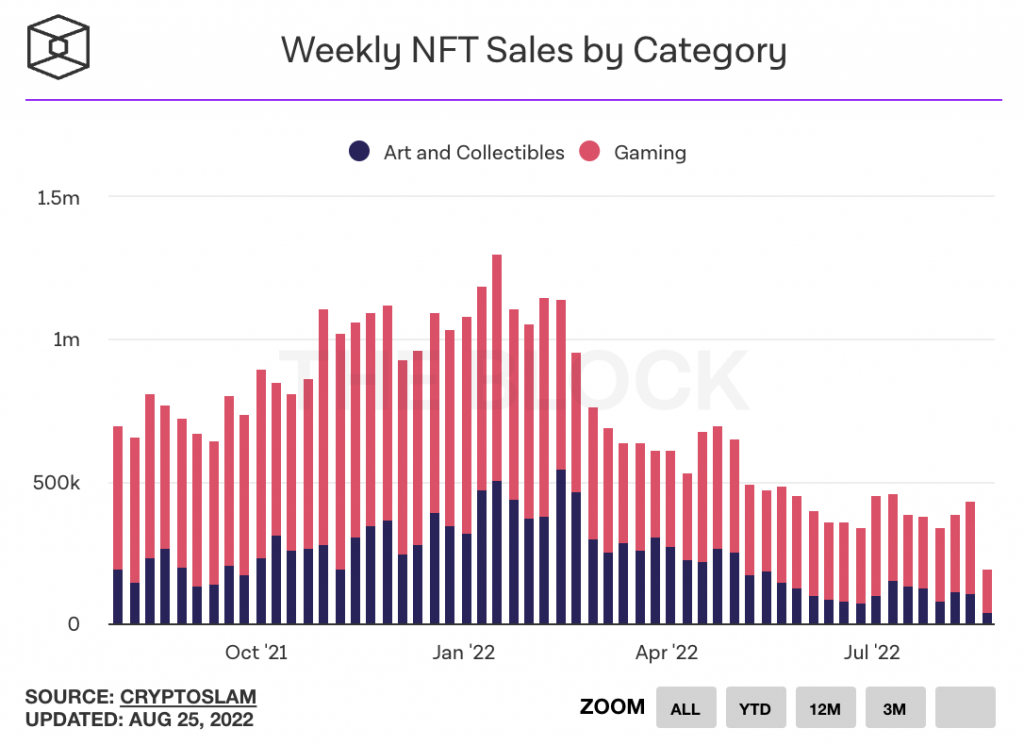 And even if some blockchains are starting to stand out, it is very clearly the Ethereum network that continues to concentrate the vast majority of activity in this sector. With no less than 80% of operations carried out for everything related to NFTs (collection or gaming). And a part intended for the Solana (SOL) blockchain – second in the ranking in the field – dropped from around 17% last May to just 4% over the last week. Is this collateral damage from its recent and numerous malfunctions? The question needs to be asked…
A very clearly downward trend for the NFTs sector, with a notable slowdown in activity and recorded volumes. But this is after all only the general trend in the cryptocurrency market. And that doesn't prevent us from finding many innovative use cases for this digital property technology.