Construction continues at a breakneck pace in the cryptocurrency industry. And the decline in prices recorded since the end of last year does not seem to pose a problem for this dynamic. With at the center of these aspirations, a will displayed as "Web3" which still needs to be clarified. Because some see it as a completely decentralized version of the Internet, while others envisage at most a Web2 more focused on data protection. Anyway, the Web3 Foundation behind the Polkadot network (DOT) is part of this trend, with an explosion in the number of validated projects since its establishment.
The Polkadot network has the particularity of being based on a unique principle of parachains. Networks attached to its layer 1, but independent and available for rental – in limited numbers – in the form of auctions. A procedure tested for the very first time at the end of last year, with 5 such slots contested for a total amount of 100 million DOT cryptocurrencies blocked. All for a maximum period of 96 weeks (just under two years). And a mechanical scarcity of the number of units available over time.
At the same time, the Web3 Foundation is part of this dynamic by mainly offering grant programs to projects wishing to establish themselves in this ecosystem. This whether it is Polkadot, but also its canary network known as Kusama (KSM). And this structure has just taken an important step in its "journey towards the creation of a decentralized Web". Because she announces to have passed the symbolic milestone of 400 registered projectsfor more than 1000 requests submitted.
Polkadot – 400 projects for the Web3 Foundation
The funding program led by the Web3 Foundation was initiated in December 2018. And since its establishment it received 1054 applications in total, of which 415 have currently been accepteds. With, to date, 181 teams of developers who have already completed at least one project. And the remaining 300 building what will be tomorrow's Web3, largely built on the Polkadot network. A listing very interesting to consult, in order to be able to identify future projects to follow within this ecosystem in full development.
" Projects funded to date span all layers of the Web3 technology stack. More than half cover runtime modules and user interface development. The rest includes wallets, tools, crypto, smart contracts, APIs, and more."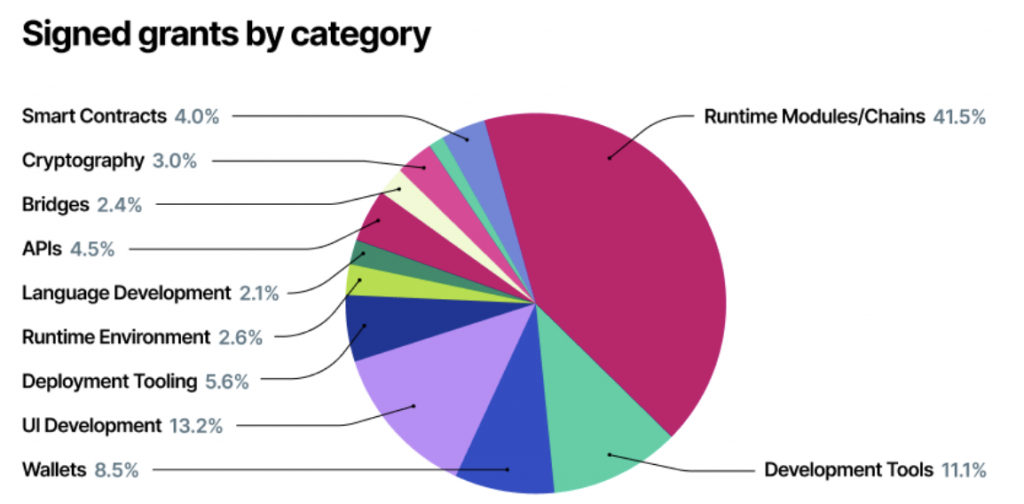 Projects registered in a wide range of fields, which cover "a wide range of decentralized use cases" such as digital identity and privacy, Internet of Things (IoT), crypto-gaming, data storage and DeFi. Many features included in the construction of a Web3 presented in its decentralized version. But don't forget to watch out for "an increase in impostors trying to scam our community" due to the growing success of the Polkadot project.