News hardware The metaverse The Sandbox gives a boost to NFTs with its season 3!
Video games aren't the only ones getting a season pass – French metaverse The Sandbox is back with a bang with its all-new season. During its Alpha season 3, the second metaverse in terms of capitalization intends to focus on non-fungible tokens (NFT) and their interoperability for the next 10 weeks.
The Sandbox, one of the largest international metaverse was founded by Pixowl, a company created by two Frenchmen: Arthur Madrid and Sébastien Borget. With over 2 million users as of March 2022, the virtual world is the second-largest metaverse project by market capitalization, just behind competitor Decentraland.
Originally launched for smartphones in 2011, the game became the successful metaverse we know today, following many innovative feature additions. This 3D virtual world combining virtual real estate and a giant amusement park has positioned itself as the leader of the metaverse with several renowned partnerships (Carrefour, Gucci, Warne, etc.).
The cubic digital space of The Sandbox finds similarities with Minecraft, but in web3 version. Its game editing software named Game Maker allows players to create and play multiplayer unique mini-games. Featuring NFT VoxEdit software, the metaverse also integrates NFTs and allows metaverse players and creators to build and animate their own non-fungible tokens (NFTs) made from voxels, cubic blocks similar to legos. The design of NFTs has no limits: it is possible to create cosmetics for your avatar (clothing, tools, etc.) or to design animals or decorative elements for their LANDs.
A LAND is a kind of digital real estate on the Sandbox metaverse. Each piece of land (166,464 LAND in total) is a unique NFT, on the Ethereum blockchain, which players can acquire in order to build infrastructures and levels there using the Game Maker program.
Although The Sandbox continues to assert itself as a real metaverse through its various features boosted with cryptocurrencies and NFT, the 3D digital world continues to play with the codes of video games by announcing season 3 of its Alpha version.
The Sandbox launches its alpha 3
Since the launch of its first season in November 2021, the metaverse made in France has come a long way. With its seasonal pass system, The Sandbox is renewing itself once again by offering new experiences for each season like a Fortnite.
Animoca Brands, the owner of the metaverse has announced the launch of Season 3 of the Sandbox alpha version. This new opus follows season 2 released on March 3rd. Launching on August 24, 2022, the third season pass offers as usual new features and experiences within the cubic metaverse. This time The Sandbox offers no less than 98 new experiences.
Concretely as a real virtual world The sandbox has been the subject of experimentation by several brands to create unique totally digital experiences. Thus, benefiting players will be able to enjoy new solo and multiplayer content developed by several licenses and recognized brands such as:
The Walking Dead
Snoop Dogg
Bored Ape Yacht Club (BAYC)
The Walking Dead
Warner Music Group
Rabbids
Atari
The Smurfs
And so many others…
In addition to these new speakers, the season will be the subject of a ranking in which players can climb for a chance to win these famous passes for season 3, and perhaps even SAND (the cryptographic token of the metaverse) . Indeed, by completing more or less difficult quests, the first 5,000 players in the ranking will be able to earn between 500 and 30,000 SAND depending on their place.
Beyond the recreational aspect of this new adventure, The Sandbox wants to put interoperability at the heart of its season 3.
You are not taught anything by telling you that the existing metaverses are not unanimous. Generally, the argument of the non-interoperability of the 3D virtual world is often invoked. Concretely, most users criticize metaverses for not establishing a single system allowing a common or shared experience between the different worlds and existing tools.
In this case, virtual objects in the form of non-fungible tokens are the perfect example for evaluating the interoperability of a metaverse. For example if you own an NFT Bored Ape, you will be happy to be able to "use" your avatar in multiple metaverses. In this sense, if every metaverse offered interoperability, then you could proudly display your Bored Ape in any digital world since your NFT would be compatible.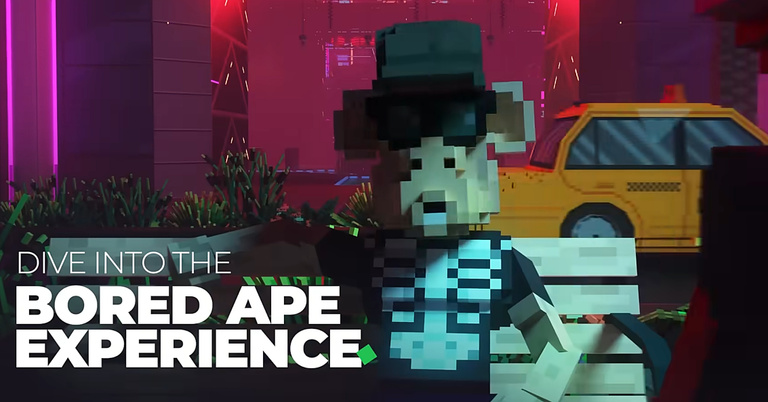 The Sandbox has understood the interest of web3 aficionados in this type of functionality and the metaverse intends to develop this aspect during season 3. Thus, Amonica Brands has announced that more than 140,000 avatars will be available from the start of the Alpha 3 from The Sandbox. Among them, we find the NFT monkeys of the Bored Ape Yacht Club or the Cyberkongz NFTs.
It is important to remember that The Sandbox experience is completely free. Therefore, if you don't have Bored Ape and other NFTs of all kinds, you can still play for free via The Sandbox's official website, even without a season pass.
About NFTs
What is an NFT?
An NFT is the abbreviation of Non Fungible Token or non-fungible token in French. NFTs are cryptographic tokens issued on a blockchain.
By exploiting this technology at the genesis of cryptocurrencies, NFTs inscribe inviolable properties in this virtual register. As a result, NFTs are true attestations of digital ownership.
Is an NFT necessarily an image?
A distinction must be made between an NFT and the object associated with it. Indeed, the non-fungible token is above all a virtual property certificate and not the digital file as such. An NFT is usually associated with a photo or video, but it can also take the form of text, music or any other digital or physical format.
What is an NFT used for?
NFTs are generally used to assert property rights online. Thus, the owner of a token of a virtual work can collect royalties, ensure respect for the intellectual property of his digital object, etc.
This feature has notably enabled the NFT to shine in art by creating value and rarity in digital images available on the web. Also, beyond art, this technology offers multiple uses in several sectors such as in video games, the traceability of a product, etc.
How is the value of an NFT defined?
These tokens are non-fungible, i.e. they have a unique value unlike cryptos, which are fungible (1 bitcoin = 1 bitcoin).
The price of an NFT is therefore arbitrarily set by the owner of the token. This price is usually in cryptocurrency, most of the time in Ether (ETH).
How to buy and sell NFTs?
NFTs are generally bought or resold on trading platforms such as Opensea or Foundation.
What is an NFT mint?
The "Mint" or strike in French, is the initial sale process of a token. To permanently become part of the blockchain ledger, these new tokens must be mint. By this action, the user comes to complete a transaction with his fees to see his token appear first hand on the blockchain.