Founded in 2018, Bitget is one of the world's leading cryptocurrency exchanges. Its motto: "Better Trading, Better Life". Indeed, Bitget wants to offer solid and secure trading solutions to users around the world, and has the ambition to become a portal transcending Web2 and Web3 that connects centralized finance (CeFi) and decentralized finance (DeFi). This year, Bitget is growing at an impressive rate, with its team now growing to over 600 members spanning 40 countries and reaching a record daily trading volume of $8.69 billion, a 300% growth over the previous year. 'last year.
An exchange specializing in derivatives trading…
Committed to creating products that enhance customer experience, Bitget has over 2 million loyal users across 50 countries. The company is ranked in the world's Top 5 cryptocurrency derivatives exchanges by volume.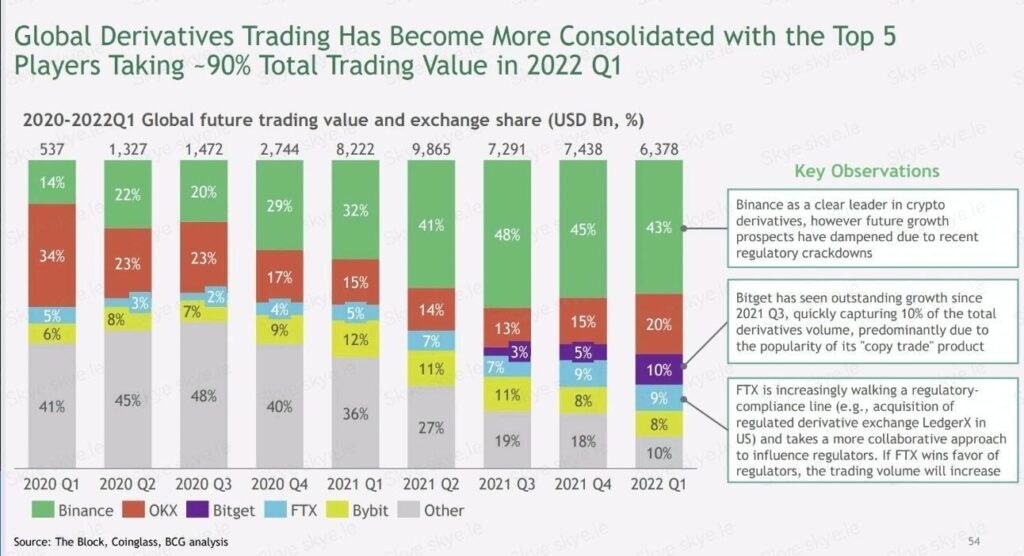 Bitget launched the "One-Click Copy Trade" in 2020. It is its phrase product, the first of its kind. The service connects new and seasoned traders in an easy-to-learn social trading environment. It exploits our innate needs for exchange and sharing, applied to the field of crypto trading. In two years, this program has attracted more than 55,000 star traders and 1.1 million followers, while generating approximately $300 million in total revenue for traders, $350 million in revenue for followers, and $64 billion dollars in overall volume. Therefore, the exchange claims the top spot in terms of copy trading volume in the world.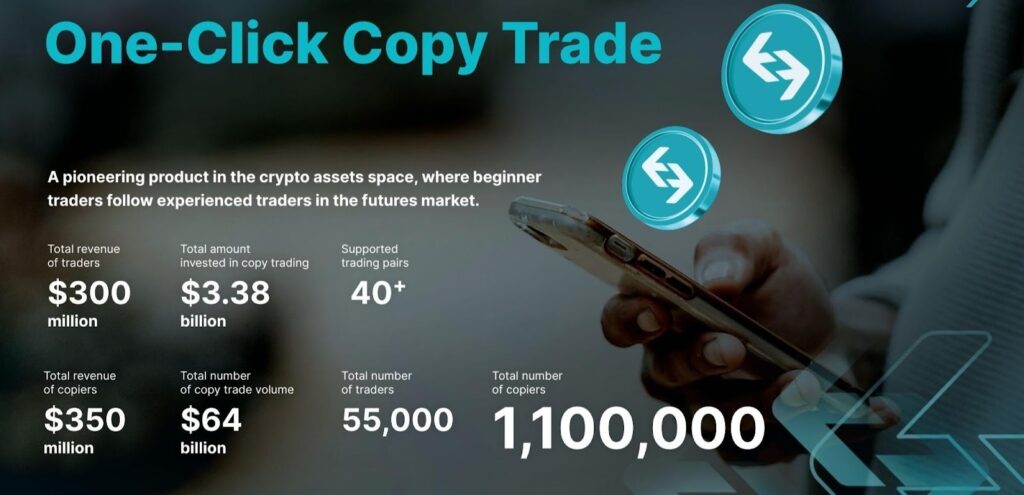 This success only pushes Bitget to design better products and services. During the first half of 2022, Bitget launched many innovative products for cryptocurrency investors:
Bitget Launchpad, which allows users to join IEOs of promising projects in several ways;
Bitget Academy, whose information and knowledge about the blockchain market and Bitget is updated daily by Bitget experts;
Bitget Spot and Futures Grid Trading, which help users understand sideways markets;
GroupCoin, where seasoned and new traders help each other and buy tokens at a discount of up to 50%;
As well as other pioneering solutions soon to be announced.
To encourage the growth and active participation of BGB in the Bitget ecosystem, Bitget offers various wealth management tools to BGB holders, such as BGB Earn, Super Airdrop Plan, and Flexible Savings. BGB holders also enjoy trading fee discounts of up to 20%. It is unusual for a centralized cryptocurrency exchange to offer a discount on trading fees, let alone such a high discount.
As one of Bitget's goals is to bridge Web2 and Web3, as well as CeFi and DeFi, the platform makes the experience very easy and rewarding for beginners to sign up. A new user can easily create a new account, buy cryptocurrencies with a bank card, Apple Pay or Google Pay, and receive various gifts including up to $4,163 in cash for completing KYC.
Bitget supports the French regulatory framework
France is one of the most crypto-friendly countries in the world and is also the first European country to approve regulation for cryptocurrency giants. The nation's progressive attitude towards cryptocurrencies and blockchain has made it very attractive to cryptocurrency investors and businesses.
Indeed, only one month after the European Parliament's agreement on the draft European regulation on crypto-asset markets (MiCA), the Autorité des marchés financiers (AMF) has put in place a regulatory framework in line with the MiCA to promote the innovation and protect investors in the cryptocurrency market. This framework covers several areas, including:
Public offering and admission to token trading;
The public offering and admission to trading of tokens of stable value (stablecoins);
The provision of services on digital assets;
Prevention of market abuse on cryptoassets.
The AMF also provides detailed instructions on how toobtain registration or optional license for Digital Asset Service Providers (DSPs) on its official website. According to the documents, it is mandatory for cryptocurrency exchanges to register with the AMF and comply with the regulations relating to the fight against money laundering and the financing of terrorism (LCB/FT). ).
After France published its legal frameworks regarding cryptocurrencies, a few cryptocurrency giants managed to obtain regulatory approval and PSAN registration. The French government has given the green light to cryptocurrency activities, but recently forced Formula 1 teams to remove crypto sponsors from cars and billboards. It seems that advertising for cryptocurrencies is still a matter of debate for the government.
100% compliance for mass adoption
Bitget, as a cryptocurrency exchange famous for its security and compliance through obtaining operational licenses from three different nations, the United States, Canada and Australia, works with authorities and legal advisors to adhere to the new regulatory requirements of France. Its commitment to security and compliance has helped them avoid mishaps in these areas, while other exchanges like Binance and Kucoin have come under fire for hacks and compliance issues.
Gemini's State of the World's Cryptocurrencies 2022 report shows that 16% of French people own cryptocurrencies and there is a clear correlation between cryptocurrency ownership and income level, as 62% of cryptocurrency owners are considered to have high incomes. The adoption of cryptoassets in France is quite promising as 40% of the population started investing in cryptocurrencies in 2021.
The report also shows that half of the French population owns cryptocurrencies not to protect themselves against inflation, but rather to diversify their portfolios and invest for the long term.
As many French people quote the "learning resources" and the "recommendations from friendsas two of the main reasons why they invest in cryptocurrencies, Bitget offers multiple data-rich tools and interesting events for new French users, with great rewards at stake.
For example, the cryptocurious can learn more about basic cryptocurrency concepts and learn the ins and outs of the industry at Bitget Academy before making their investment decisions. New traders can also use One-Click Copy Trade to learn and practice trading strategies from top cryptocurrency traders on Bitget.
Bitget's products and 24/7 customer support are available in 13 languages, including French. Thus, new French users can safely and comfortably discover the universe of cryptocurrencies with bitget. To not miss any future announcements from Bitget, do not hesitate to follow them on social networks Telegram, Twitter and instagram.
Receive a summary of news in the world of cryptocurrencies by subscribing to our new daily and weekly newsletter service so you don't miss any of the essential Cointribune!
The Cointribune editorial team unites its voices to express themselves on topics specific to cryptocurrencies, investment, the metaverse and NFTs, while striving to best answer your questions.